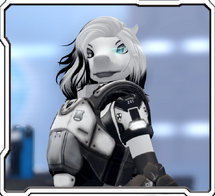 :Jaden
"Colony Security Sergeant"
: BIOGRAPHICAL DATA
/ / Real Name
Jaden Osiris
/ / Known Aliases
None Known
/ / Gender
Female
/ / Species
[Data Expunged]; Splicer
/ / Allegience
To E-Gov, C-Sec, and the Colony
/ / Place of Birth
[Data Expunged]
: OCCUPATIONAL INFORMATION
/ / Occupation
C-Sec Officer
/ / Weapon of Choice
Dual SMG's (Flavored as a single Rifle)
/ / Combat Style(s)
Modern Tactical Combat
: RACIALS AND TRAITS
/ / Racial
Spliced Genes
/ / Positive Trait
Natural Runner
/ / Positive Trait
Great Drinker
/ / Positive Trait
Great Driver
/ / Negative Trait
Cold Blooded
/ / Negative Trait
Complacent Soldier
/ / Negative Trait
Flashbacks
Jaden Osiris is an officer in Dawn Colony's public security force. She was a former Scorpions Operative who had served a brief enlistment period within the private military firm before leaving due to personal reasons. It is implied heavily that Jaden was a Combat Splicer created to serve as an espionage and infiltration unit during the Resource War. Public records provide little to no context behind this, and additional information - available only to high-ranking members of EarthGov - is either heavily redacted or missing entirely.
In the interim time between the end of the Resource War and the present day, Jaden had somehow lost her memory. She woke up in the cargo hold of a transport freighter that was en route to Dawn Colony. For better or for worse she'd assimilated herself amongst the colony's denizens and set about looking for work as a freelancing mercenary. Among her various practical abilities she considers herself to be astoundingly attractive and seductive - being extremely narcissistic, as well.
Jaden took part in the final events of Dawn Colony's demise, having faced off against multiple void beings culminating in a battle that cost her life. She was recovered by fellow C-Sec officers just prior to the evacuation, her body left mangled and eviscerated. She was taken to Rise Colony as part of the transports and placed into a regenerative healing pod. While it was expected of her to make a full recovery, she was revived without memory of the events leading up to her death.
Personality
Jaden's personality has been tempered by several events throughout her time in Dawn Colony. Her experiences as a Colony Security officer has leveled her expectations in other people that she does not serve alongside with. She is generally playful, snarky, and sarcastic with the people she is more familiar with - but handles strangers with a particularly heavy, serious hand.
She is focused and calm while in the middle of combat, unflinching and dedicated.
Abilities
Jaden is naturally athletic and acrobatic with augmentations improving her agility and speed. The combination of her neural and ocular implants allow her to be hyper-accurate with any ballistic weapon. She was purposefully-spliced for infiltration and espionage, her body small enough for her to be nimble and quick on her feet while staying for the most part silent.
Equipment
With her recent employment under Colonial Security, Jaden finds herself with access to improved equipment aside from her "standard loadout."
Paladin
The Ambo Sciences Magnetic Rail Carbine, Mk. I, 6mm colloquially referred to as the "Paladin" is a miniaturized rail gun developed during the height of the Resource War to be capable of use in zero-g environments. Jaden's standard weapon for her day-to-day activities; the Paladin is an effective short-barreled carbine chambered to fire its proprietary 6mm magnetic bolts at a high rate-of-fire. Its standard magazine holds up to sixty bolts. It is also a modular weapon capable of equipping a variety of rail-linked accessories.
OOC Notes The model of the ASI Paladin is used (and given an in-character description) to emulate the use of dual-wielded SMGs as a single rifle platform.
They are equipped with one of each of the following:
Extended Magazine -- Allows for an additional round to use the [Autofire] weapon it's equipped to.
Balanced Grip -- Lowers the accuracy penalty of dual-wielded weapons varied by size class.
Heavy Caliber -- Adds +1 Ballistic Skill
Solmunko
The Ambo Sciences Magnetic Rail Heavy Pistol, Mk. II, 6mm colloquially referred to as the "Solmunko" is an even further miniaturized rail gun initially developed to be a smaller variant of the Paladin. The Solmunko was produced and made to serve as a personal defense sidearm that fires the same ammunition-type as the Paladin. Jaden uses this weapon for its intended purpose as a personal defense weapon for when she does not have access to her primary weapon.
Combat Armor
Jaden's armor is lined with kevlar, covered in parts by a rigid and durable armored plating akin to reinforced plastic for lighter weight. The design of her armor, in particular, suits her in combat against enemies wielding ballistic weapons. It has one attachment point occupied by an Anti-Gravity Harness that helps offset the gravity of whatever celestial body she finds herself on - she uses this to help cling to walls when necessary, and it also improves her agility. Additional attachment points on the armor due to her installed Expansion Slots are occupied by a Shoulder-Mounted Identifier and an Ammo Belt - the former of which allows her to accurately pinpoint friend from foe and fire her weapons without fear of harming allies; the latter provides a method to immediately reload her weapon.
Jet Boots
Among the most recent additions to Jaden's arsenal, she has attached a pair of jet boosters to the bottom half of her combat boots.
Nature of Splicing & Augmentations
When she underwent her splicing, Jaden was fitted with several implants and augmentations that would render her capable of being able to handle whatever task was thrown her way. In short, she was made to be the perfect infiltration unit, along with her deceptively attractive and unassuming appearance. Some might argue that she is more cybernetic than she is organic, at this point. While she still had these augmentations when arriving at Dawn Colony, they required repairs and some were needing to be replaced altogether.
Assortment of Neural and Ocular Implants
Jaden's implants were installed to suit her occupation as an infiltration splicer during the last war. She'd never taken them out, which gives her a deceptive appearance of a sweet, frail, and bubbly character without a care in the world. Internally, she is able to view her surrounding areas with explicit detail and is able to pinpoint any small thing. When handling a weapon, she is hyper-accurate as her implants work to determine the path of her fired rounds, the speed at which they'll travel, the spread of automatic or burst rounds, and the distance they'll cover which would allow her to fire off a shot within seconds of picking out her target with little to not preparation needed. Her ocular augmentations also allow her to see in pitch-black darkness by constantly adjusting her view contrast and brightness.
Cybernetic Augmentations
Jaden's body is host to several cybernetic augmentations. The lower half of her legs are inorganic, covered and hidden cleverly by flesh; her augmented legs allow her to move faster and more quiet even when dressed in full combat gear. She had another module installed to gauge and adjust her reflex times, which allow her to avoid attacks her neural and ocular implants are able to determine in a split second. She also had additional "expansion slots" installed to her armor to be able to attach additional modules to her combat armor.
OOC Information
The player of this character provides express permission for Jaden to be involved in any non-consensual adult situations as a means of advancing her personal story.
As a character, she is often very approachable in any situation.